Google Docs is a text editor that works in the browser and brings several features and tools little known to users. In this way, we gathered in this material, 7 Google Docs tricks that can be very useful in your routine, especially for you who work frequently with the software.
In summary, Google Docs is software that offers the user the main tools to create and edit text documents, spreadsheets, and presentations without the need to install any program on their computer.
Moreover, it's a completely free platform, and to use it just login, or create a Google account. Certainly, you already use all the tools of Google Docs, but do you know all the resources that can make your personal, professional, and academic life more practical?
With this in mind, we've separated 7 Google Docs tricks you need to know. Check it out below.
Read More: Google Drive tips for a practical routine
1. Google Drive Tricks: Create a document with a shortcut
Many people open the main Google Docs page to start creating a document. However, be aware that it's possible to insert a shortcut in your browser – in the address bar – to further facilitate your access to a new document. For this, just:
Open Google Chrome.
Type the shortcut: doc.new, sheets.new, or slides.new.
3. Press Enter, and automatically your blank document will appear, ready to be created.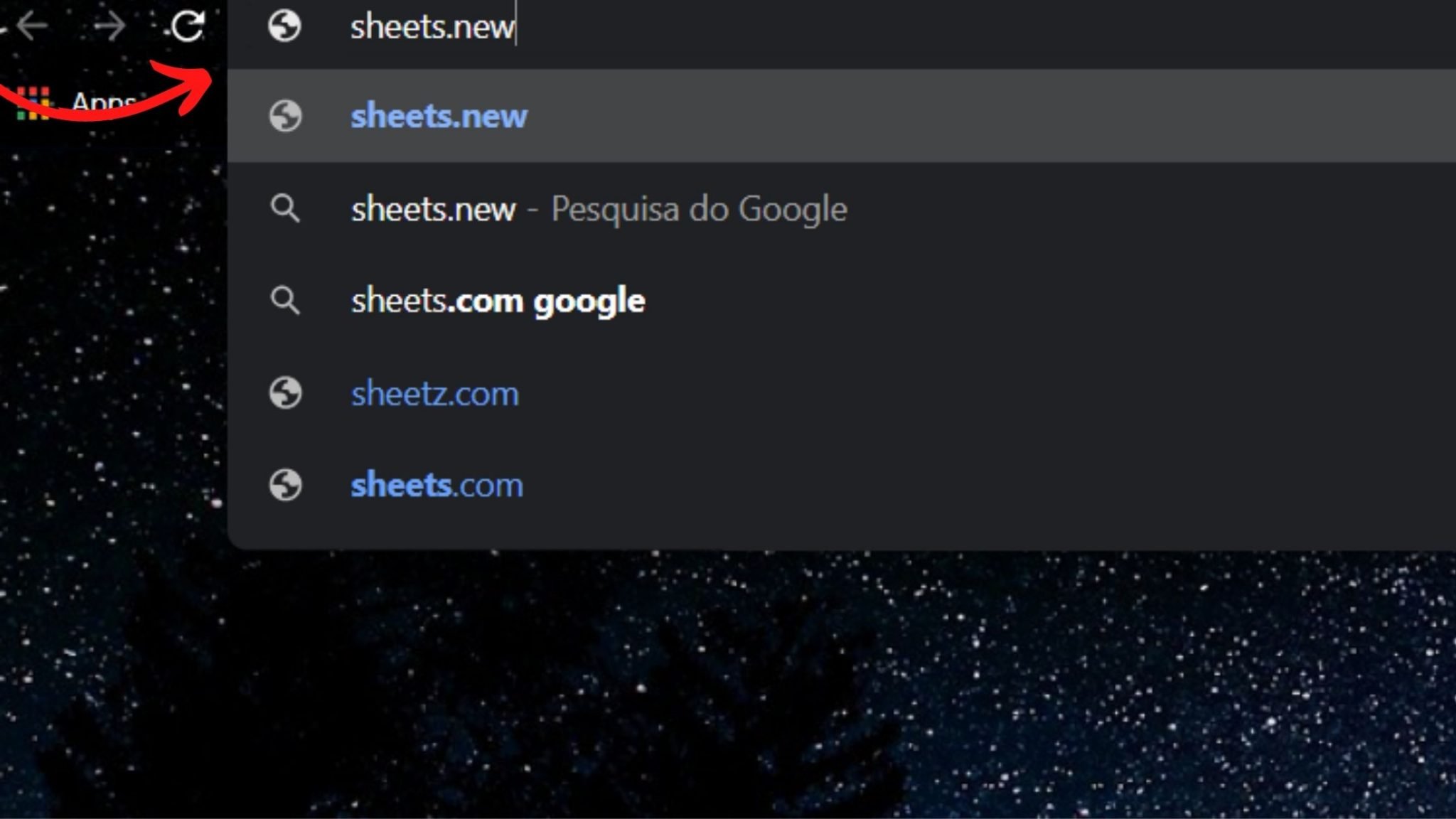 To make it even easier, save these commands to your favorites bar. That way, you will have access to the document with just one click.
The shortcut is ideal, especially when you need to make a quick note and save. After all, as soon as you start typing, the content is immediately saved to your Google account and can be checked as many times as you want through your list of documents.
2. Google Docs tricks: Recover accidentally deleted text
If you accidentally deleted some text, know that you can use the document's version history in Google Docs to retrieve the changes. To do this, just follow the step-by-step below:
Go to the menu, and click on "File".
Then click on "Version History" and choose the option you want.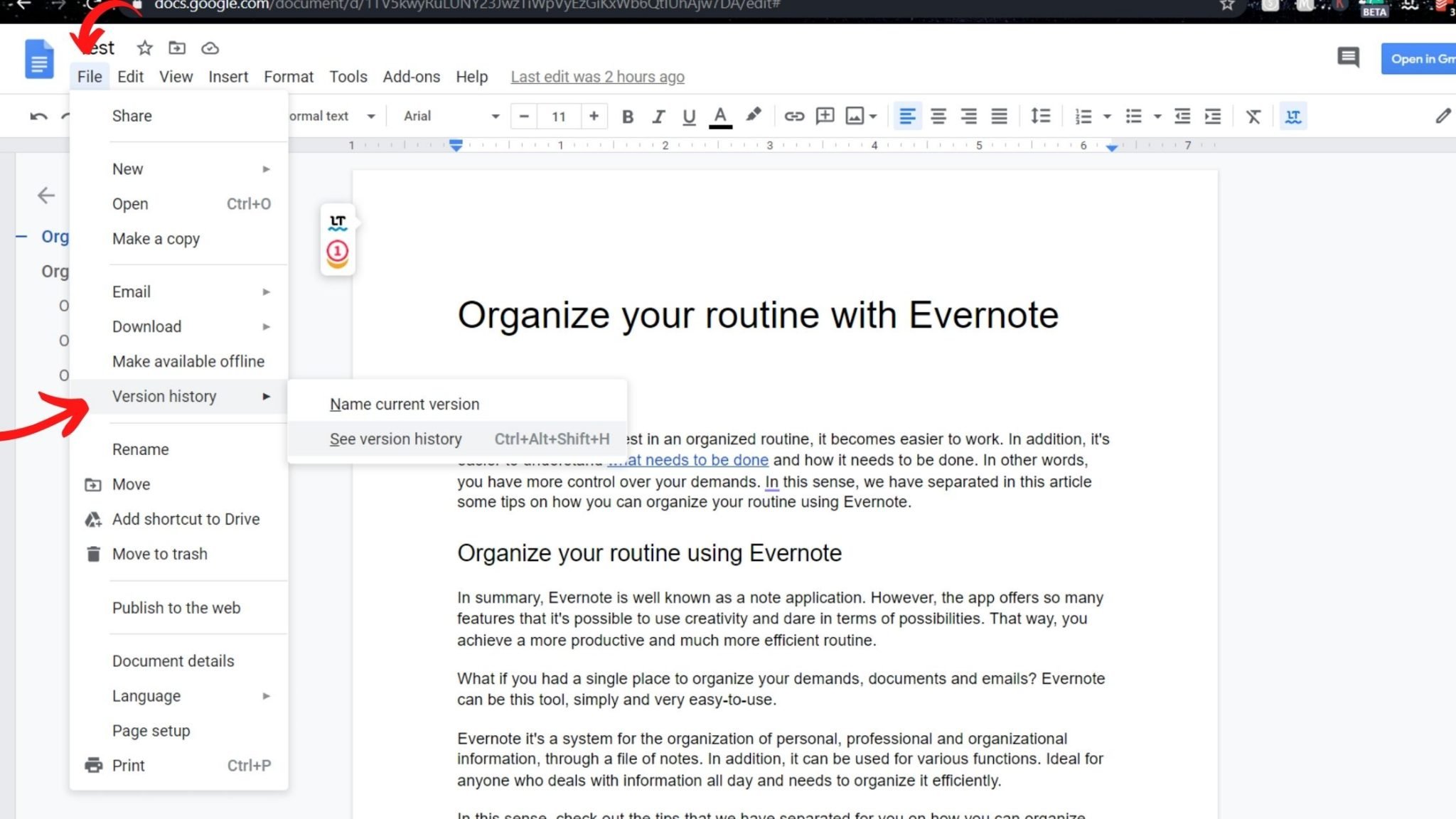 The software will automatically show a series of versions categorized based on the number of changes made to the document. Thus, it's possible to recover the text that you have lost by mistake.
For sure, this is one of the most amazing Google Docs tricks. Especially when the file is shared with a team.
Read more: How to boost productivity using Google Calendar
3. Track your word count
Google Docs recently added the option to see your word count increase or decrease in real-time. This feature can help you have better control of your work. Mainly for you who need to create content, or deliver work with a maximum (or minimum) number of words.
To activate this function, just follow the step-by-step below. Check it out:
1. Go to the menu and choose "Tools"
2. Click "Word Count".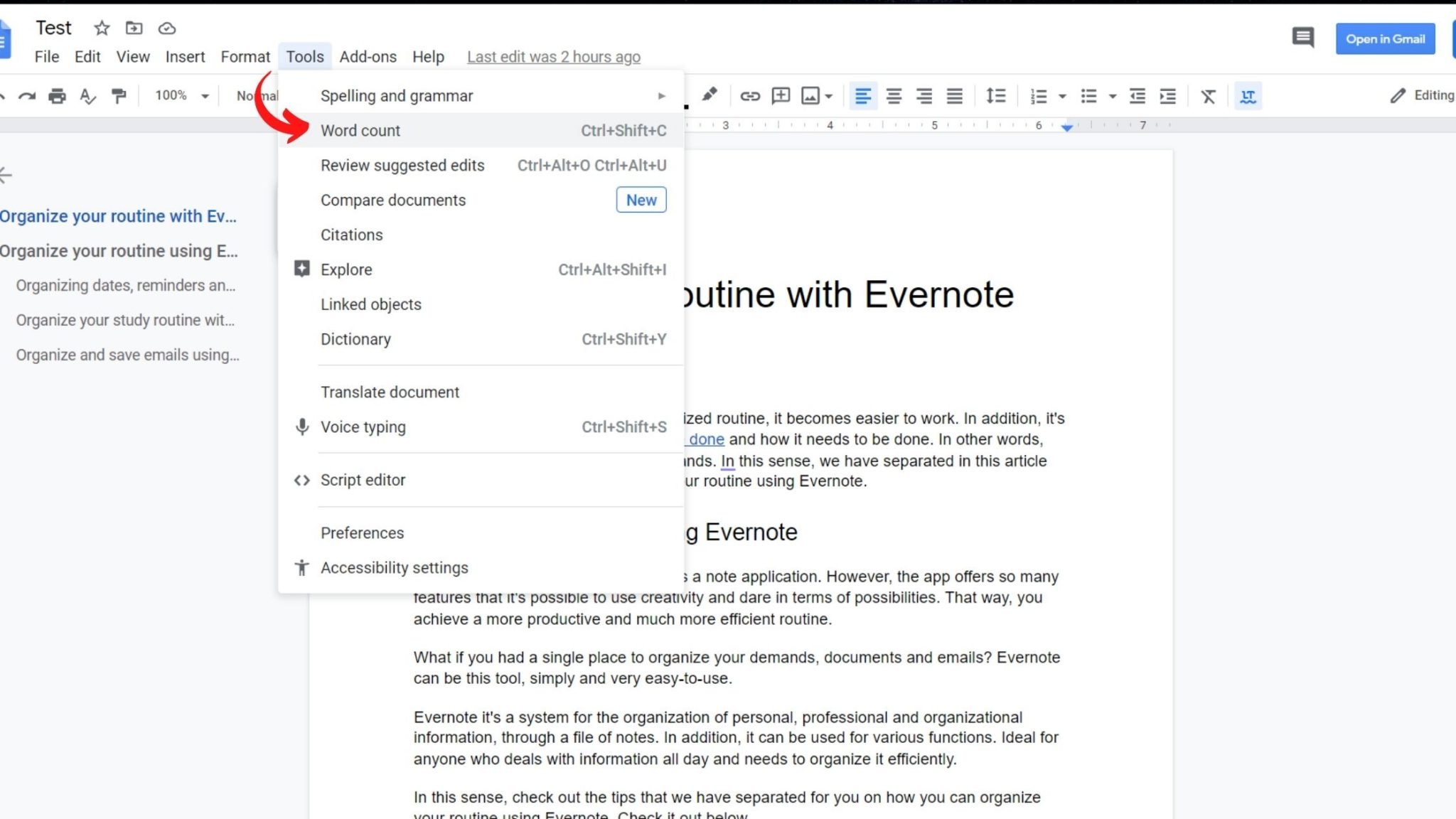 3. Then check the "Display word count while typing" box.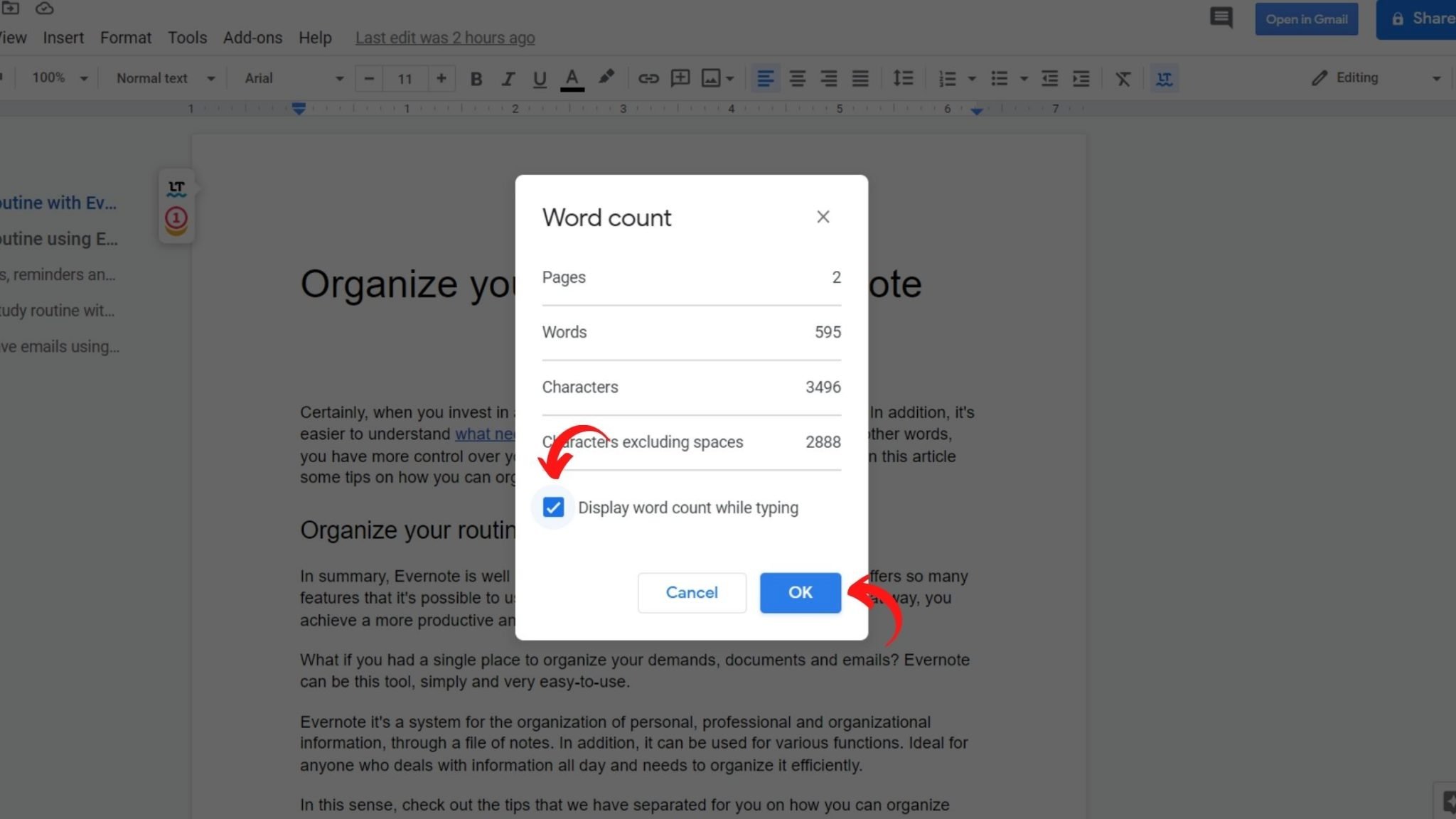 4. Finally, click "OK", and the count will automatically appear in the left corner. Other information, such as characters and page number, will also appear.
4. Create a personal dictionary
One of the Google Docs tricks that can save precious seconds of your day is the possibility to create a personal dictionary. In other words, Google Docs allows the user to include words that he usually uses in a personal dictionary, in cases where the spelling checker doesn't recognize some terms as marks or proper names.
To add words to your personal dictionary, follow the step-by-step below:
1. Open the Google Docs document.
2. Click on "Tools", then on "Spelling and Grammar". Then, click on "Personal Dictionary".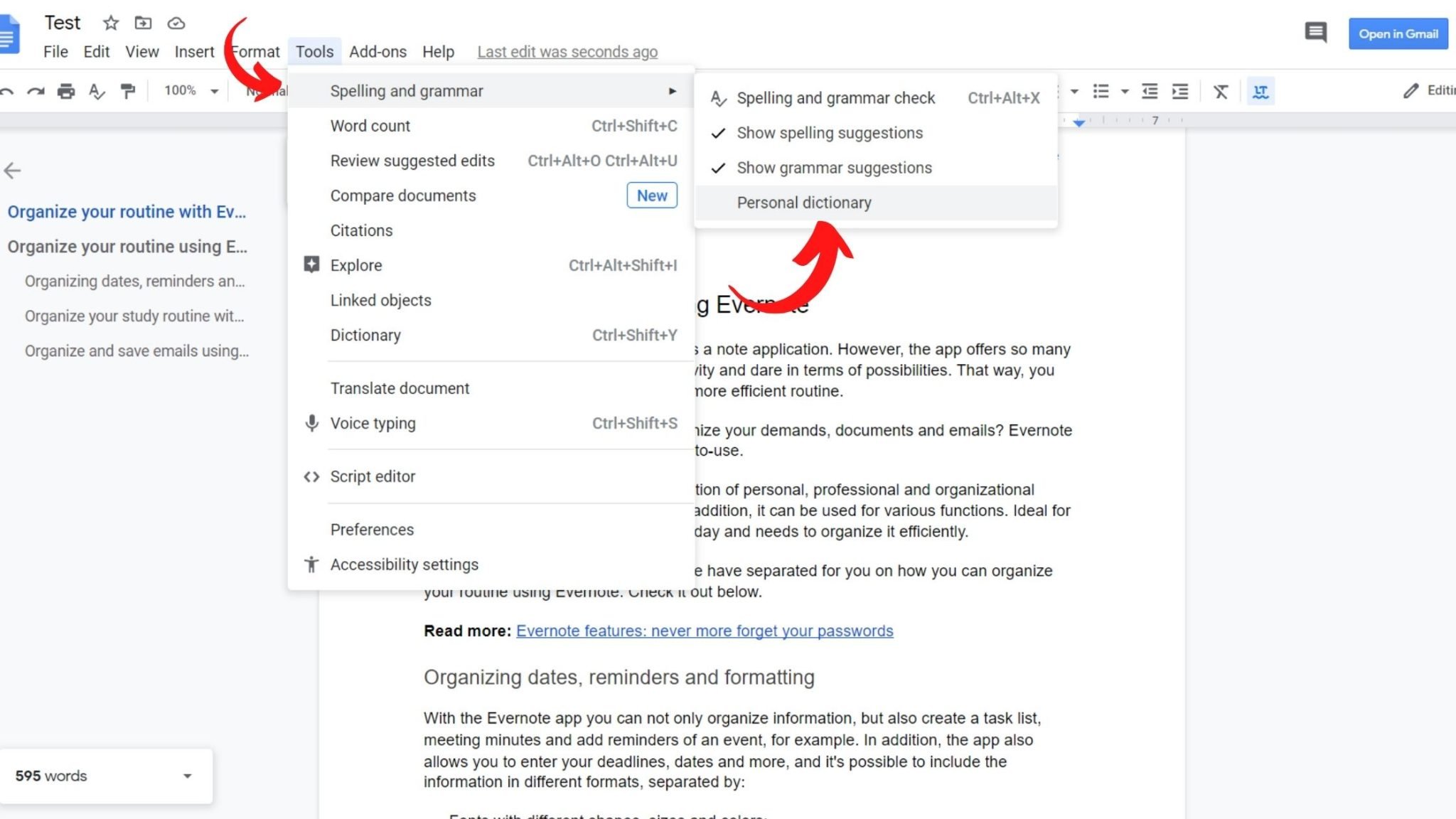 3. Type the word you want to include in your dictionary, and click "OK". Repeat the process for each new word you want to add.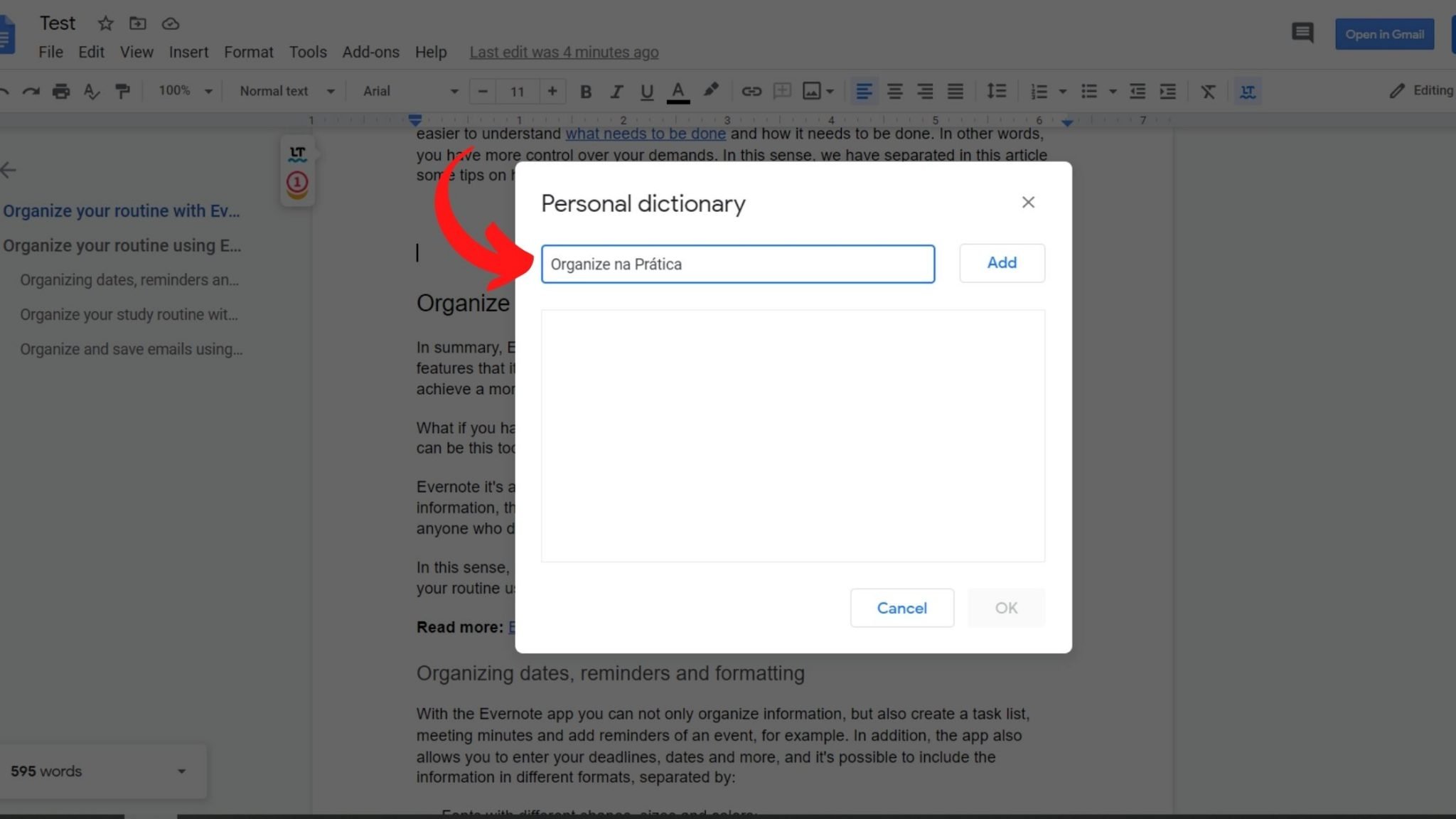 5. Google Docs tricks: Organize texts from titles
Very long text can be organized into titles and subtitles so that you can create an automatic index on the side of your Google Docs.
This makes it easy to read an important topic, without having to manually search for the topic.
To activate the index, follow the step-by-step below:
1. Format the document using the title tool, according to hierarchy.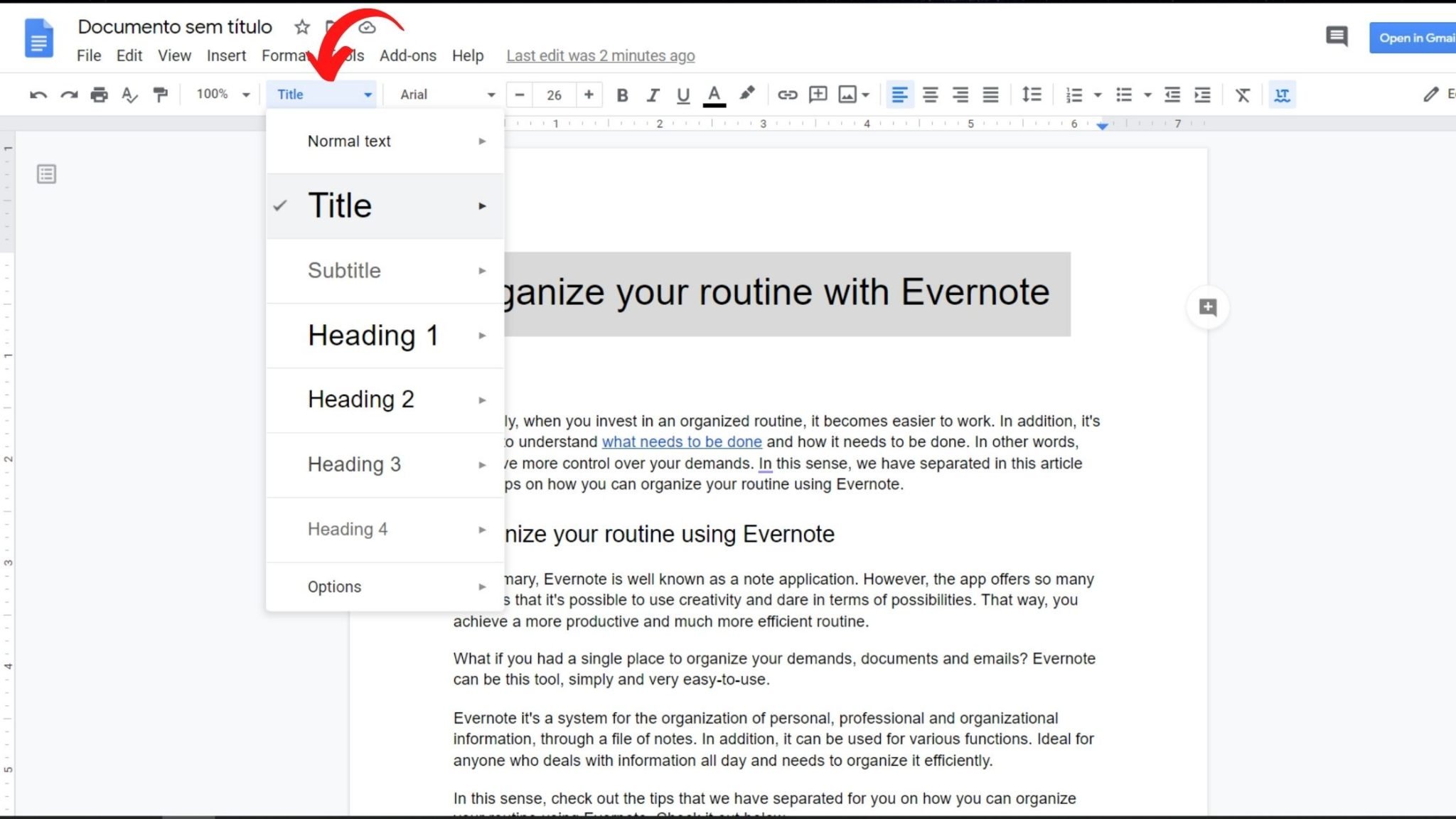 2. When finished, check that on the left side, Google Docs will automatically show the organized content, and will allow you to browse the document with just one click.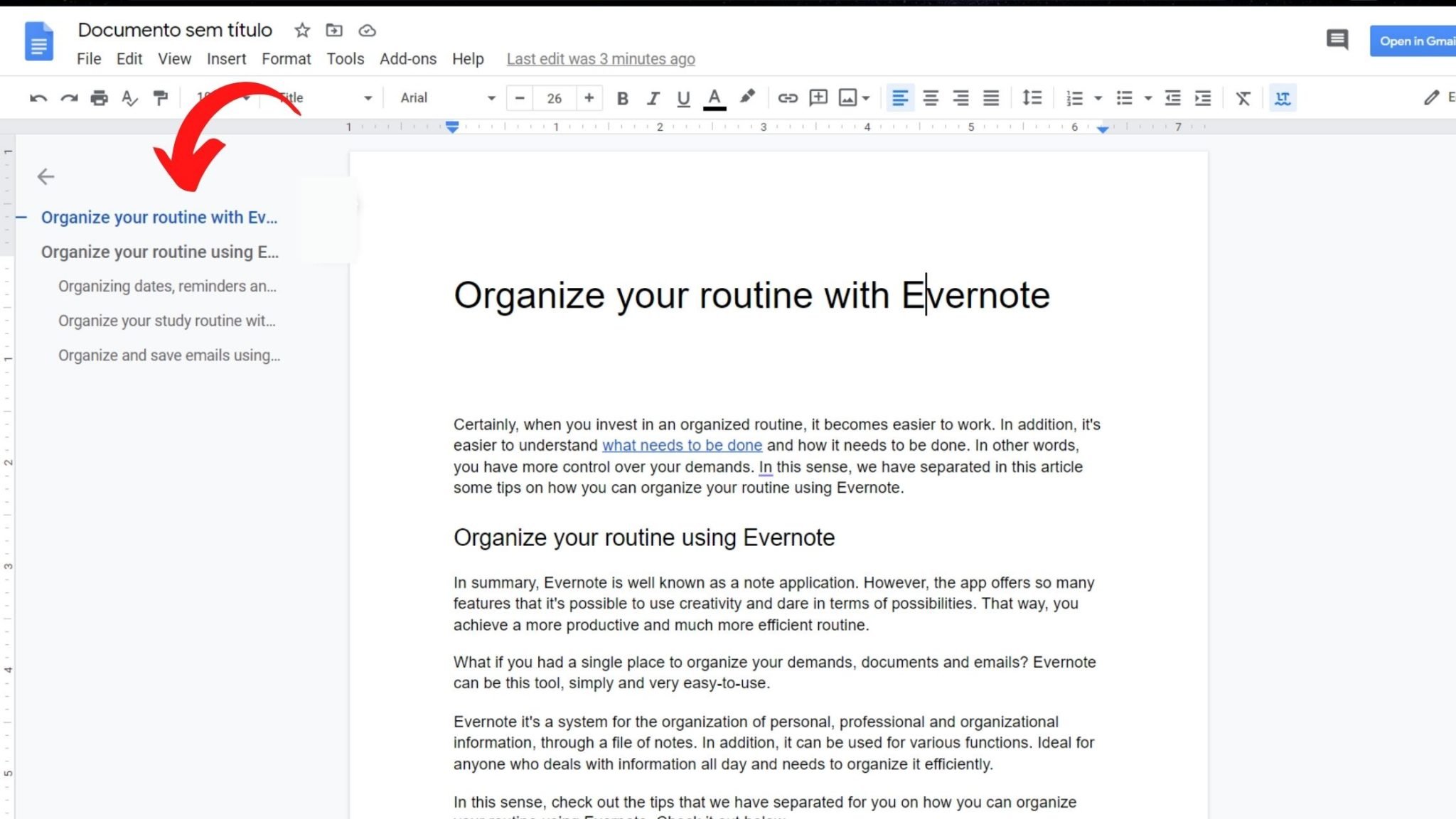 Very simple, isn't it?
Certainly, this is one of the Google Docs tricks that will save you a lot of time and energy.
6. Move paragraphs in a block using the "drag and drop" tool.
Everyone knows the "drag and drop" tool available on many apps and platforms. Google Docs is no different. This command is useful to facilitate the editing of text in blocks and long text.
So when it comes to moving entire paragraphs in your document, instead of using the classic "copy and paste", follow these steps:
Mark the paragraph you want to move.
Hold the Shift + Alt keys and use the arrow keys to move the entire position. Another alternative is to select the paragraph with the mouse. That is, hold with the left mouse button, and drag it to where you want to move it. It's very simple. The blue line will indicate where the text will fit if you release it in a certain location. As in the image below.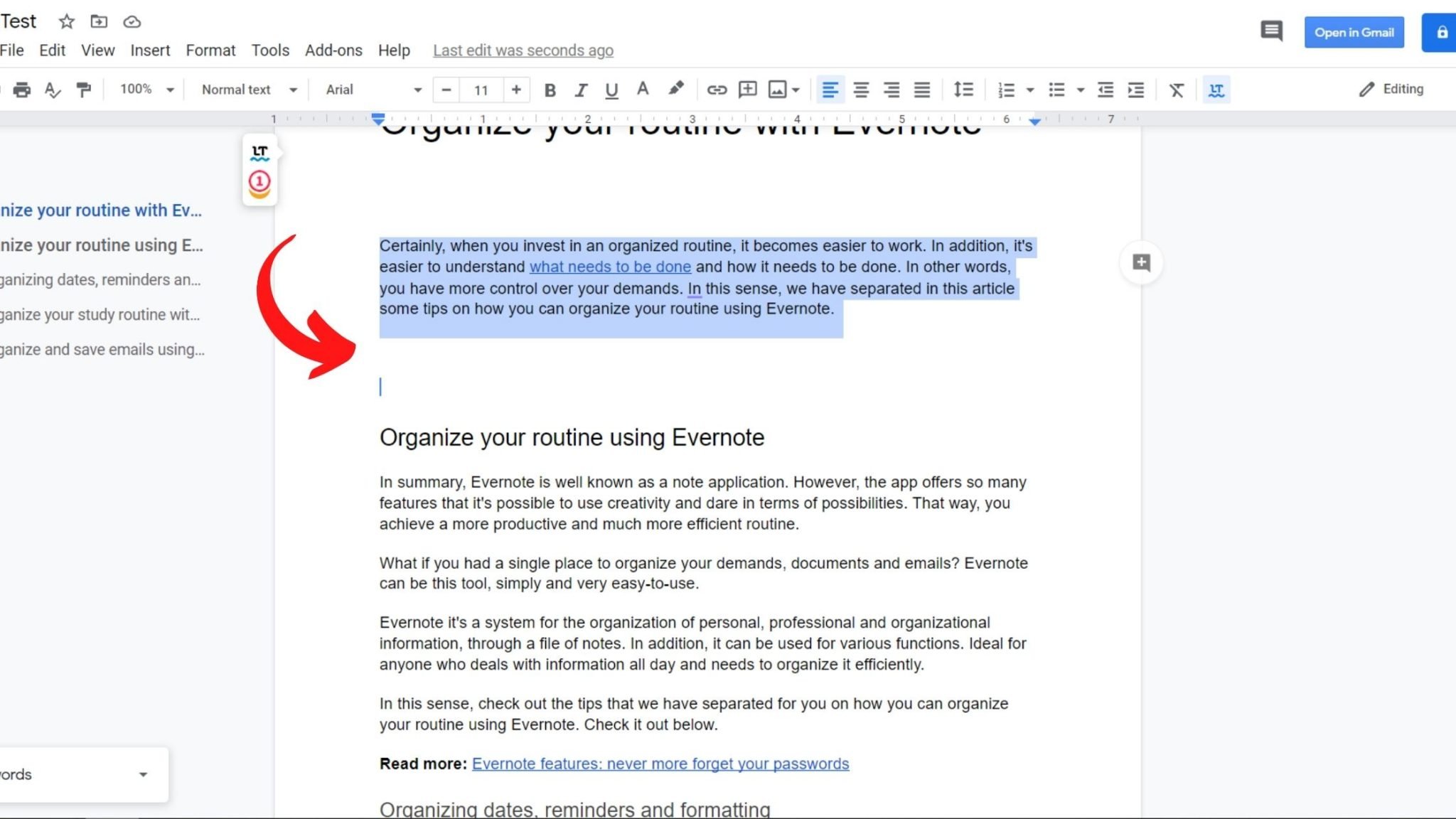 Read More: Google Drive tips: How to delete hidden files
7. Use the brush tool to quickly format
Last but not least, one of the great tricks of Google Docs is the formatting tool that can be used to quickly apply formatting to various selections of text.
That is, the painting tool helps to replicate a specific format for any other part of the content, in a very simple way. Check it out below:
Click on the edited text, then click the paint roller icon on the toolbar.
Finally, just select the text you want to apply the formatting to, and you're done! The format is copied to the selected text in just two clicks.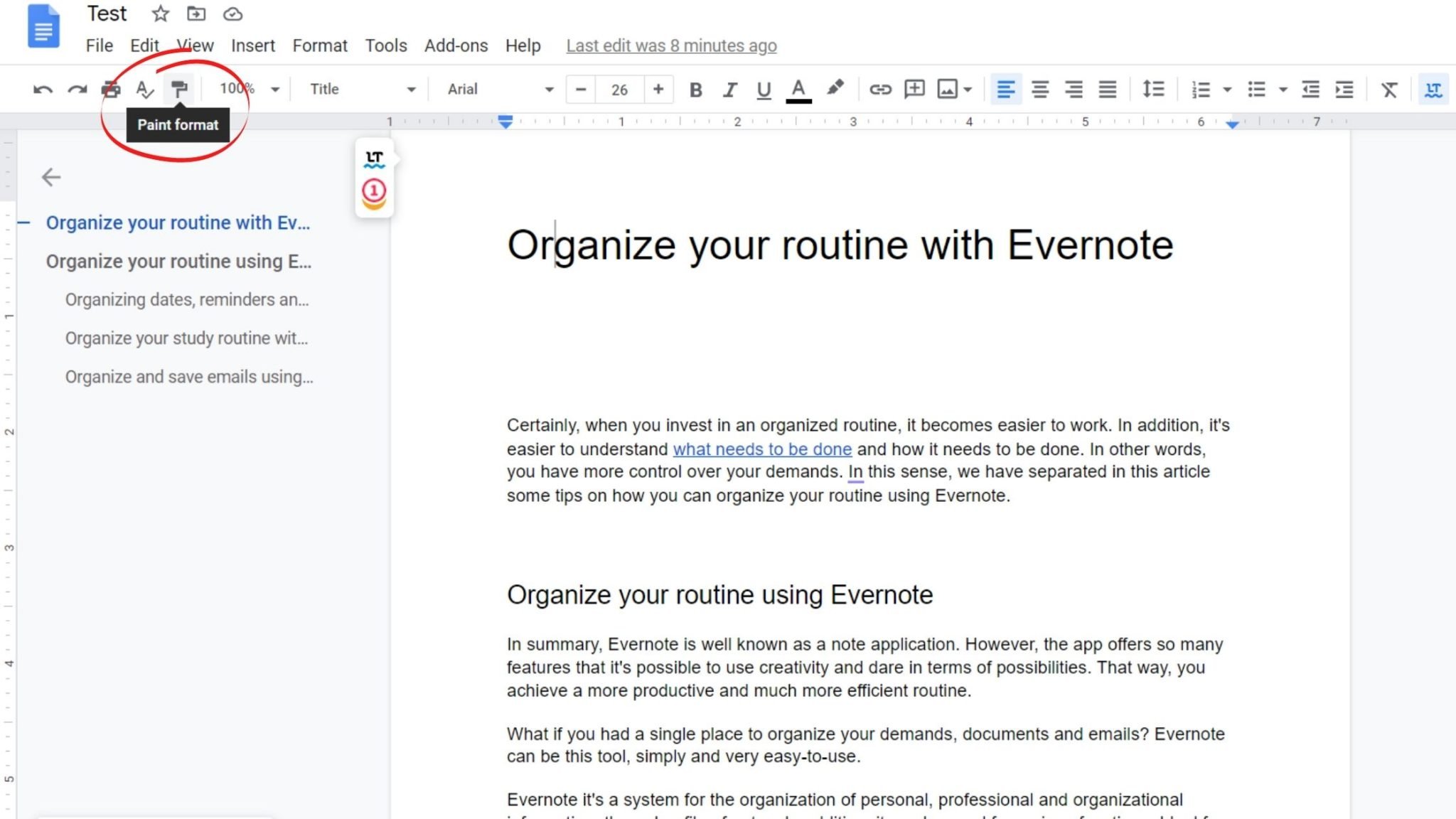 Finally, was this article useful for you? Leave your opinion in the comments. Don't forget to share this article with your friends on your social networks.
Take the opportunity to follow Organize na Pratica on Instagram, and to follow more amazing videos on the YouTube channel.
Reference material
YouTube Channel. – Personal and Business Productivity
Organize your Calendar Practically and Effectively using Google Calendar. – Click here to know more about it.
Organize na Pratica. – Courses