The features of Google Drive are already used by many companies to optimize the routine. However, not all people know how to use their full potential. Accordingly, in this article, we will list three fundamental tips on how you can use Google Drive for business. And yet, stays until the end, because the third tip will teach you how to convert PDF to word using Google Drive in a simple way.
Introduction
Google offers the best tools for you to be able to work quickly and efficiently, including Google Drive, which offers numerous possibilities. And yet there are people who believe that all the possibilities are restricted to personal use only.
In addition to the cloud storage feature that everyone knows, it's also possible to share and facilitate teamwork.
Google Drive also integrates with computer programs and other productivity software, making sure that all information and files are always synchronized and available for consultation in a few minutes.
In addition, Google Drive offers security settings when you need to share files and many other great features.
Read more: Google Drive tips: for a practical routine
With that in mind, we have separated three tips to help you, among them, how you can convert PDF to Word with just a few clicks.
But first, let's understand a little about the main features of Google Drive.
Main features of Google Drive
Before you check the tips, check out the list of the main features that are available on Google Drive. That way, you will be able to get organized and start using the system to your advantage.
Google Calendar: with this feature you can organize your appointments, set up so that your customers automatically schedule times with you. And yet, organize your daily tasks.
Contacts: through Drive, you can store and organize your entire list of contacts and corporate or personal emails. That way, you save local space on your computer or your cell phone and rely on Google security.
Drive: this cloud storage feature that everyone knows about is awesome.
Google Docs: text editor similar to Microsoft Word. With this tool, you can upload articles and even translate them quickly. In addition, it's also possible to use the voice feature to save time and facilitate the capture of information in a meeting and even in a class, for example.
Google Slides: the best tool to create and edit presentations, similar to PowerPoint. With it, you can even cut YouTube videos to include in your presentations and make it even more attractive.
Google Sheets: similar to Microsoft Excel, create and edit spreadsheets and collaborate. It's possible to share with up to 50 people by editing at the same time. Ideal to facilitate teamwork.
Google Hangouts – finally, it's a tool for chat, video conferencing, and screen sharing.
Now that you've remembered the main features of Google Drive, check out the tips we've prepared for you below.
1. Form synchronized with spreadsheets to facilitate analysis of responses
Certainly, you already know Google Forms, and if you do, you may have already used it to facilitate some tasks in your company. But, do you know that it's possible to generate a spreadsheet with all the requested data?
Who works with research and measurement of data can formulate a questionnaire using Google Forms and all the data will already be available in a spreadsheet that you can download in a few seconds. To learn this feature, follow the step-by-step below:
1. Open the file you want to extract the data from in Google Forms.
2. In the upper right corner, click the green icon.

3. Then just click on select answer destination. Choose the first option, click "create". And your spreadsheet will automatically open in a new browser tab with all the answers tabulated.
2. Revision history
Are you in the habit of using Google Drive to facilitate collaboration and teamwork? Have you ever felt the need to have greater control over the edits that are made by your team?
This way, know that it's possible to access the history of revisions and edits in the files that are shared between the team in Google Drive.
In addition, it's also possible to revert the document to the latest version.
To access the review, just follow the three steps below:
1. As soon as you open your document, it will appear in the top bar when the last revision was made. For example: "last revision was made 7 minutes ago".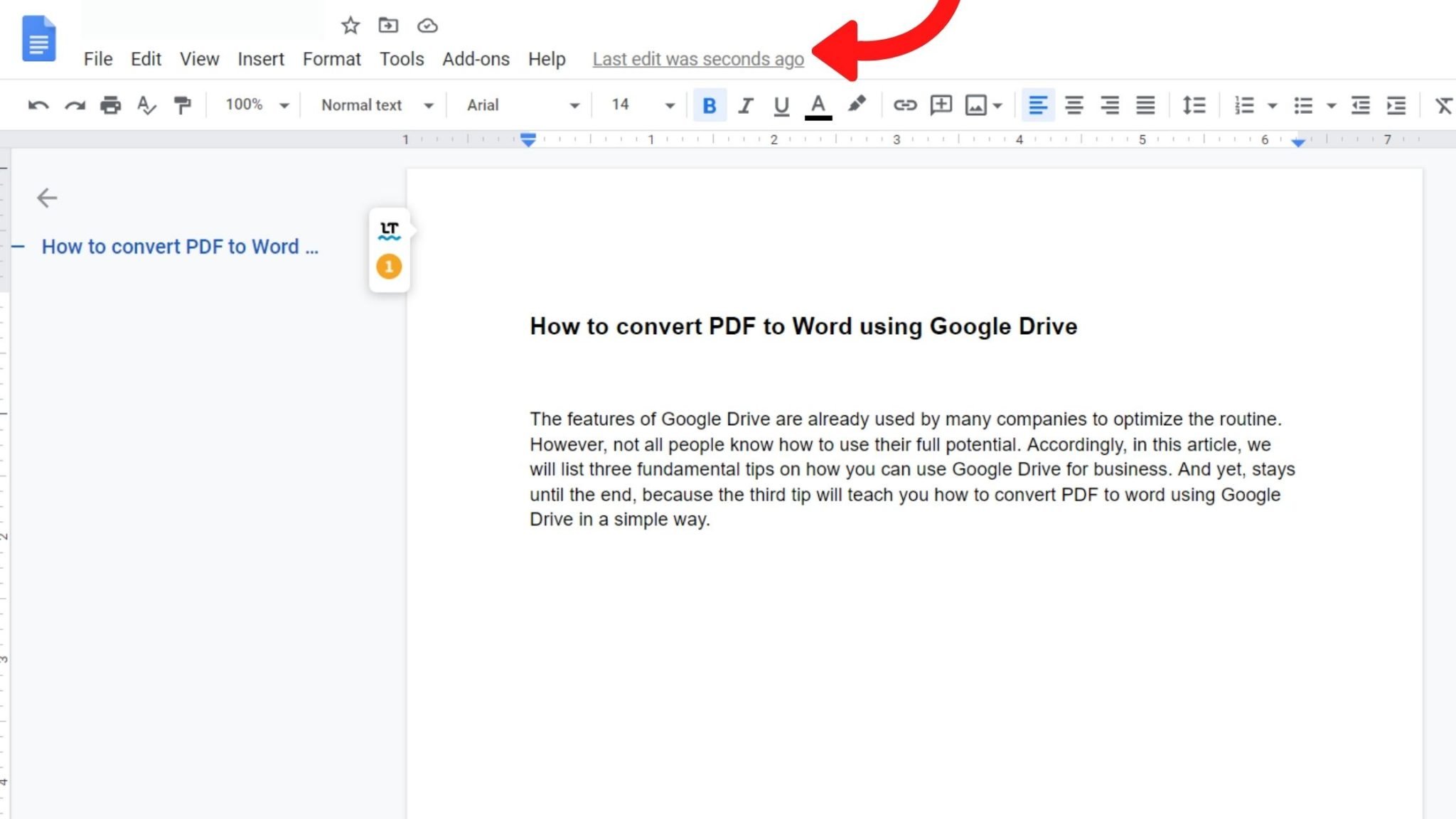 2. Then, just click on this information, and automatically, the revision history will appear on the right side of the screen.
3. By clicking on the "three dots", you can make a copy of the previous version simply and quickly.
3. Learn how to convert images or PDF to Word using Google Drive
In conclusion, this feature is interesting for you who receive scanned or PDF documents and need to transfer some information to a system or spreadsheet.
Google Drive allows you to include the article in the cloud and convert PDF to Word format, for example. See how simple it's in just two steps:
Upload the file you want to convert to text.
Right-click and choose the option "Open with", then "Google documents", and seconds later, your file will open in text form so that you can copy only the information you need.
This feature is possible with PDF documents and even scanned images.
To learn this incredible resource, in practice, Mauricio Aizawa prepared an incredible video for you. Watch below:
Finally, in addition to all these features presented, one of the main advantages of Google Drive, for sure, is security. Cloud storage is practical, easy to use, and has all the security systems that Google offers.
And when purchasing one of the paid plans of G Suite, security becomes even greater.
What did you think about this content? Leave your opinion in the comments and share this material with your friends on social media.
Take the opportunity to follow Organize na Pratica on Instagram, and to follow more amazing videos on the YouTube channel.
Reference material