Google Drive is a cloud solution that offers all the tools for you to do a lot of work and share important documents with the team. It's also great for saving local space and having cloud services to organize your work, academic, or even personal environment. The system is intelligent and offers all the features to help productivity and make your routine more practical. With this in mind, we've separated some Google Drive tips for you, check it out.
Google Docs, Sheets, and Slides are just some tools offered and available on Google Drive to improve your workflow. But, do you know how to use the tool's full potential?
So, check out below the best Google Drive tips. This way, you can increase your productivity and bring more practicality and agility to your routine.
Read more: How to boost productivity using Google Calendar
1. Google Drive tips: Work Offline
The first tip is the most important, especially for professionals who always need to travel with their computers. Don't let the lack of internet in the place prevent you from editing and creating files in Google Docs.
To activate this option, simply add the extension "Google Docs Offline". Then just go to the document, access the option "file"> "make it available offline". The document will ask you to update the page, and second, your file will be available for consultation and editing in offline mode.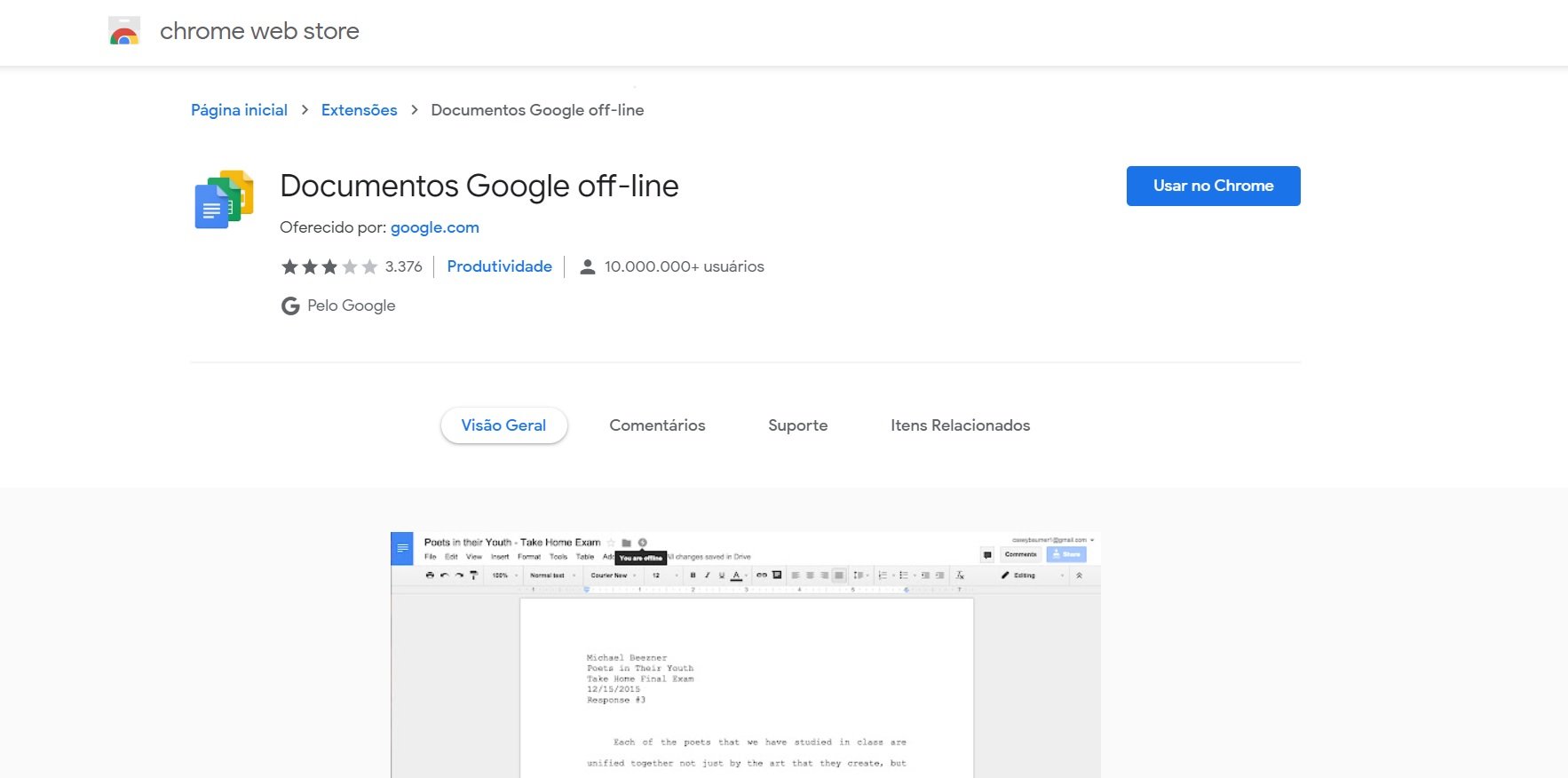 2. Team collaboration
Do you have a job at school or college? Need to share a spreadsheet with your work team? Google Drive offers you this possibility.
Through the system, it's possible to share a file with up to 50 people, so that they can edit at the same time.
No more losing the original file and start organizing to increase productivity and provide staff with more practicality.
To do this, just share your file by email. Moreover, to prevent the file from being lost, or shared externally, when sending, just uncheck the option "Editors can change permissions and share". Very simple, isn't it?
This is one of the most amazing Google Drive tips for professionals who constantly need to work as a team.
3. Download the app to make your routine easier
Using the Google Drive app is also great. The app offers the possibility to edit and create documents even without the need for a computer. This feature is ideal for editing files faster or sharing documents urgently.
Another interesting function is the possibility of taking a photo of a text, uploading the photo to Drive, and it will transform the letters in the image into a text file.
4. Speak instead of typing
Have you ever thought about transcribing a meeting?
Certainly, you speak faster than you type. So, have you considered using the Google Drive voice tool?
To activate the function, just go to "tools", then "voice typing". You can also choose the language in which you intend to dictate.
You will be amazed at the quality of the transcript.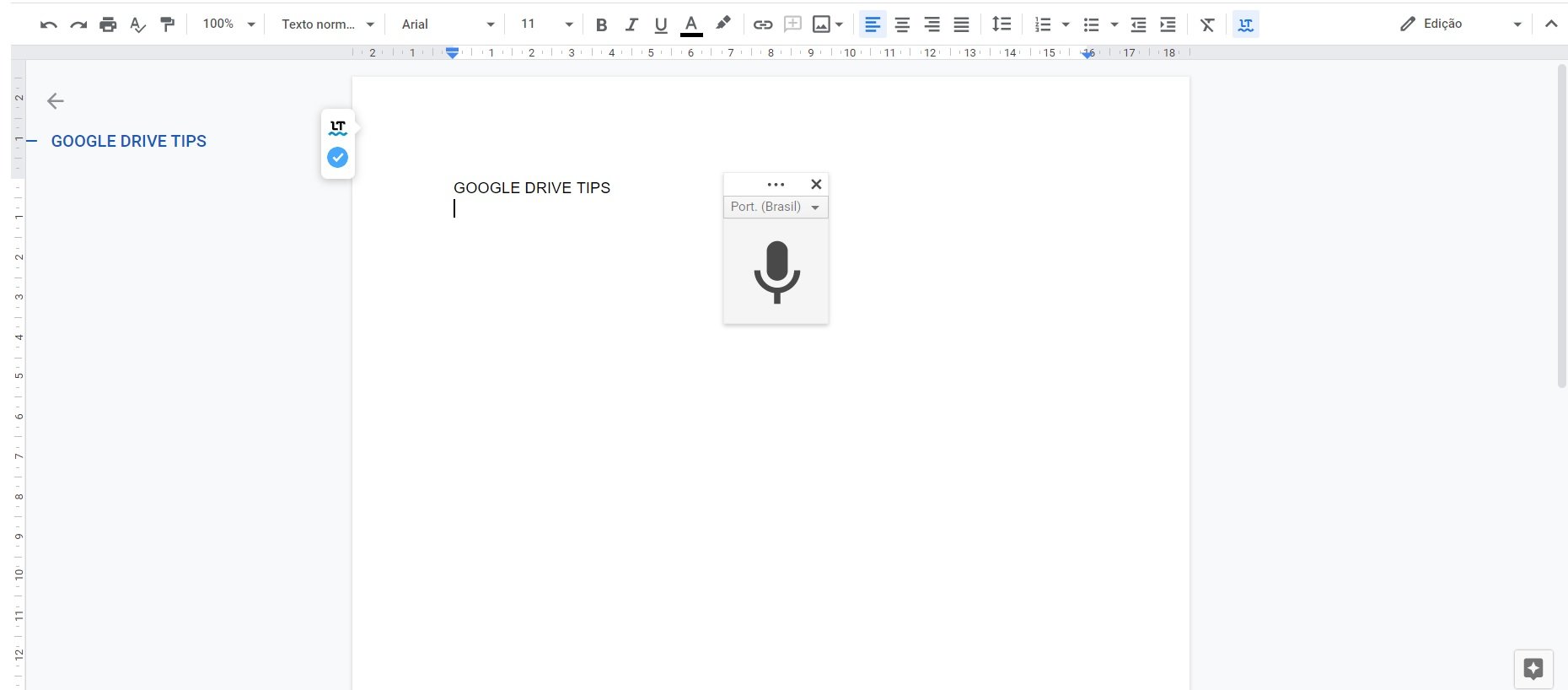 5. Google Drive tips: Cut videos within presentations
Do you have an important presentation at school or at work to do? Want to present an interesting video to illustrate your speech, but don't want to present the entire video?
Don't worry. Because one of the most surprising tools of Google Slides is the possibility to cut YouTube videos within the presentation.
To do this, just follow the step-by-step below:
Add the video to the slide you want.
Right-click on the video.
Choose "Formatting Options".
Automatically the Video Playback settings will appear on the right.
Finally, enter the beginning and end of the section you want to present.
6. Google Drive tips: Translation feature
Did you receive that incredible material in another language? Are you searching for important work, and have you found foreign materials?
Don't worry, this is one of the most interesting Google Drive tips, especially for those who work with content, or for students.
Just save the file in Drive, open the document, go to tools, then just select "translate a document", and the option will appear for you to create a copy of the translated document. Incredible, isn't it?
7. Ensure security when sharing documents
Last but not least, this tip is for professionals who need to share documents with the team or with customers and want to ensure the security of this document.
Everyone knows that you can share any document, even a document folder, via the shareable link. What everyone also knows is that through the link, the person receiving the document is able to not only edit and share with others but also make a copy of the entire document.
Thus, to ensure the security of your document, Mauricio Aizawa brings two Google Drive tips that are incredible.
One for sharing, and the other for deadlines for shared documents. Learn in the following video, practically.
Finally, what did you think about this content? Leave your opinion in the comments and share this material with your friends.
Take the opportunity to follow Organize na Pratica on Instagram, and to follow more amazing videos on the YouTube channel.
Finally, knowledge doesn't stop here
Do you want to increase your Productivity and Organize your Personal and Business Routine using practical routines and templates?
Moreover, what about learning the essentials components to set a productivity routine? In other words, is the same techniques that help me to increase my productivity and bring efficiency to my days.
Reference material