Evernote is an excellent tool for anyone who works with texts, notes, and information all the time. In addition, it offers complete resources to make your routine more productive and efficient. With that in mind, we've separated three incredible Evernote features to make your experience even more positive.
One of these tips even involves a powerful password management feature. This way, you will never forget your passwords again when you store them securely in Evernote. Read on to learn how.
In short, Evernote has become the favorite app for people looking for an easy-to-use, intuitive, and productivity-enhancing platform. Available for mobile phones and computers, Evernote offers the flexibility to create notes separated by notebooks. As well as include text formatted with colors, in lists or tables, with attachments or drawings and written by hand.
It also offers incredible organization and categorization features.
With that in mind, we've separated three tips with three Evernote features to further improve your experience with the tool. Prepare your app and have a good reading!
1. Evernote features: Organize the toolbar
Did you know that it's possible to make Evernote usability even easier?
One of Evernote's features is the possibility to organize that side toolbar so that it's even more practical for you. However, this feature is only available on the desktop version (Windows or Mac).
To access this feature is very simple. Just follow the 3 steps below:
1. Open the version of the Evernote application on your desktop.
2. To open the option to customize the toolbar, right-click on the top bar. Then just click on "customize toolbar…".
3. A screen with options will appear. To configure, just click on the icon, drag and drop on the bar to include. You can include all the tools or just the ones you use most.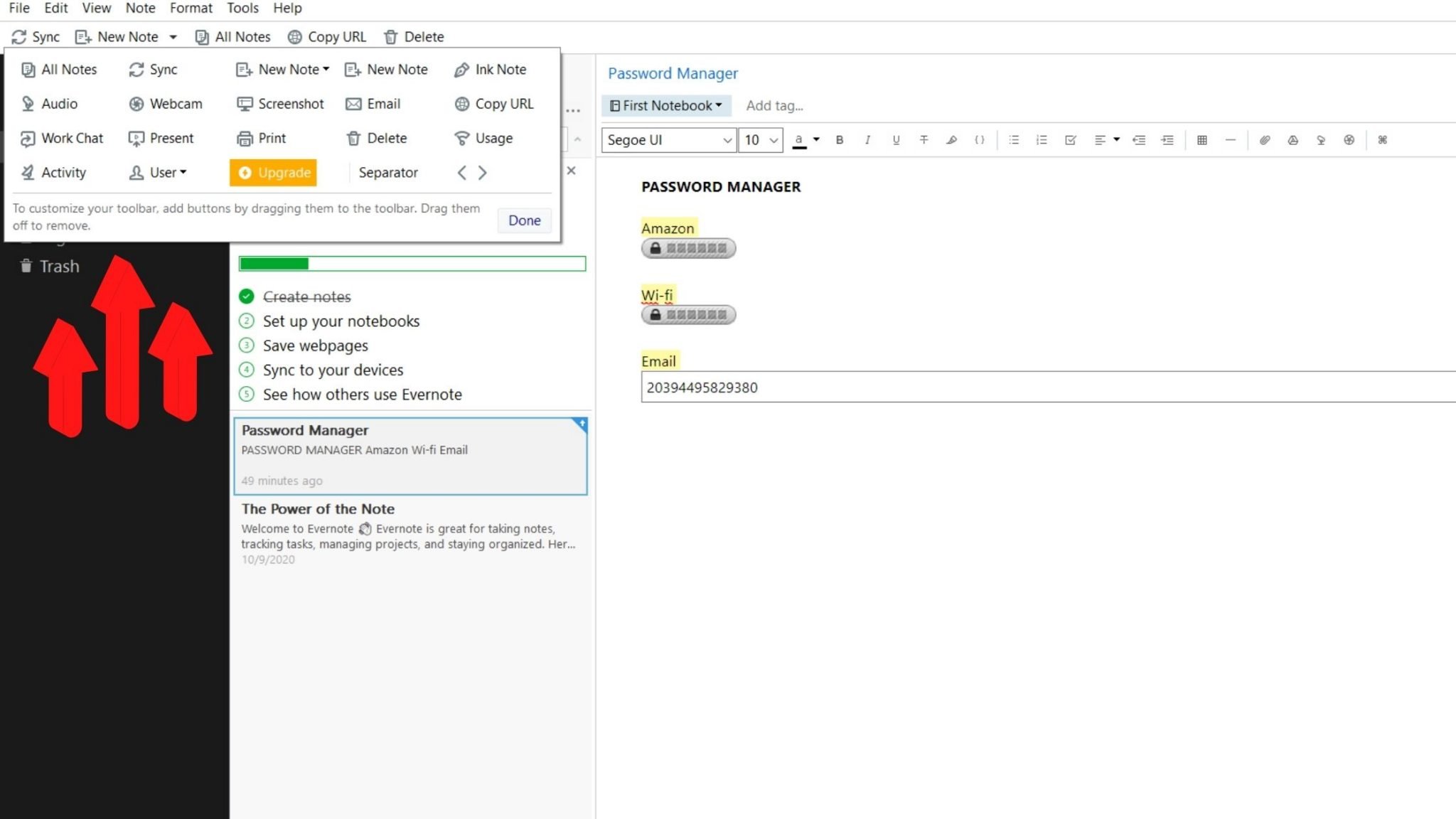 2. Capture web pages with a few clicks
This resource is incredible for those who like to read articles on the web, for those who study. Or even for those who like to organize their reading routine.
Today, many companies invest in quality content (content marketing) to attract consumers and teach the public about a certain subject. As a result, content sites, which were already a reality, are increasingly being visited and used as a source of research and learning.
Many sites teach on various topics, which depending on your goals, are a real tool to complement your studies. And even new learnings to grow professionally.
As is the case with Organize in Practice. On our blog, every week, we invest in content with tips about productivity, organization, and efficiency to make your personal and professional routine more agile.
But, unfortunately, with so many activities, we don't have time to read all the available content every time. And we often find quality material that we would like to save to read later. But, know that with Evernote it's possible.
Through the extension of the app (Evernote Web Clipper), it's possible to save web pages, take screenshots and even save that part of the content that is interesting for you, to review later.
Learn how to do this in 3 real easy steps:
1. Install the Evernote Web Clipper extension in your browser.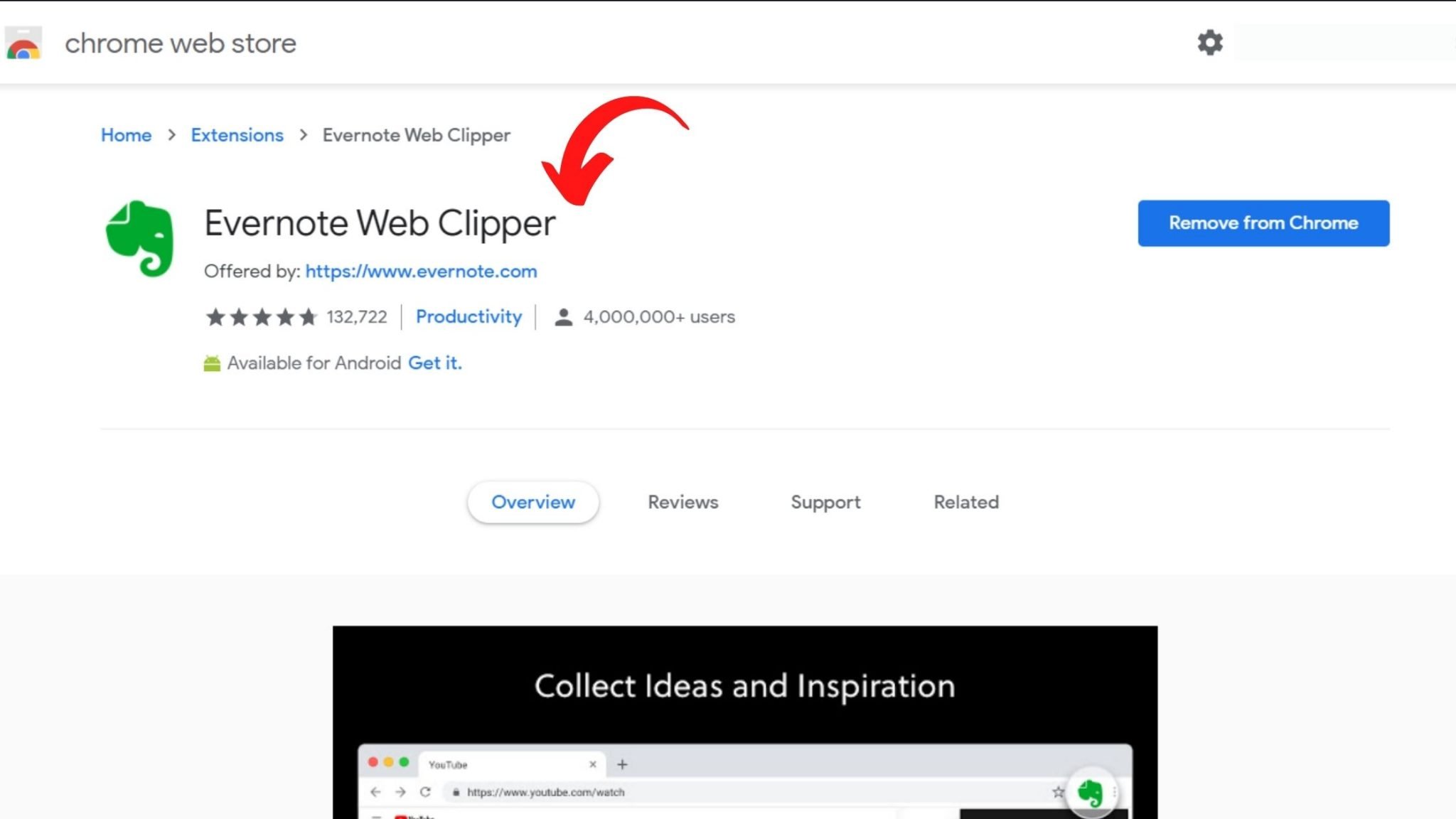 2. Open the web page you want to save the information or the entire page. Right-click, hover your mouse over the Evernote icon. Then choose the option that will suit your goal.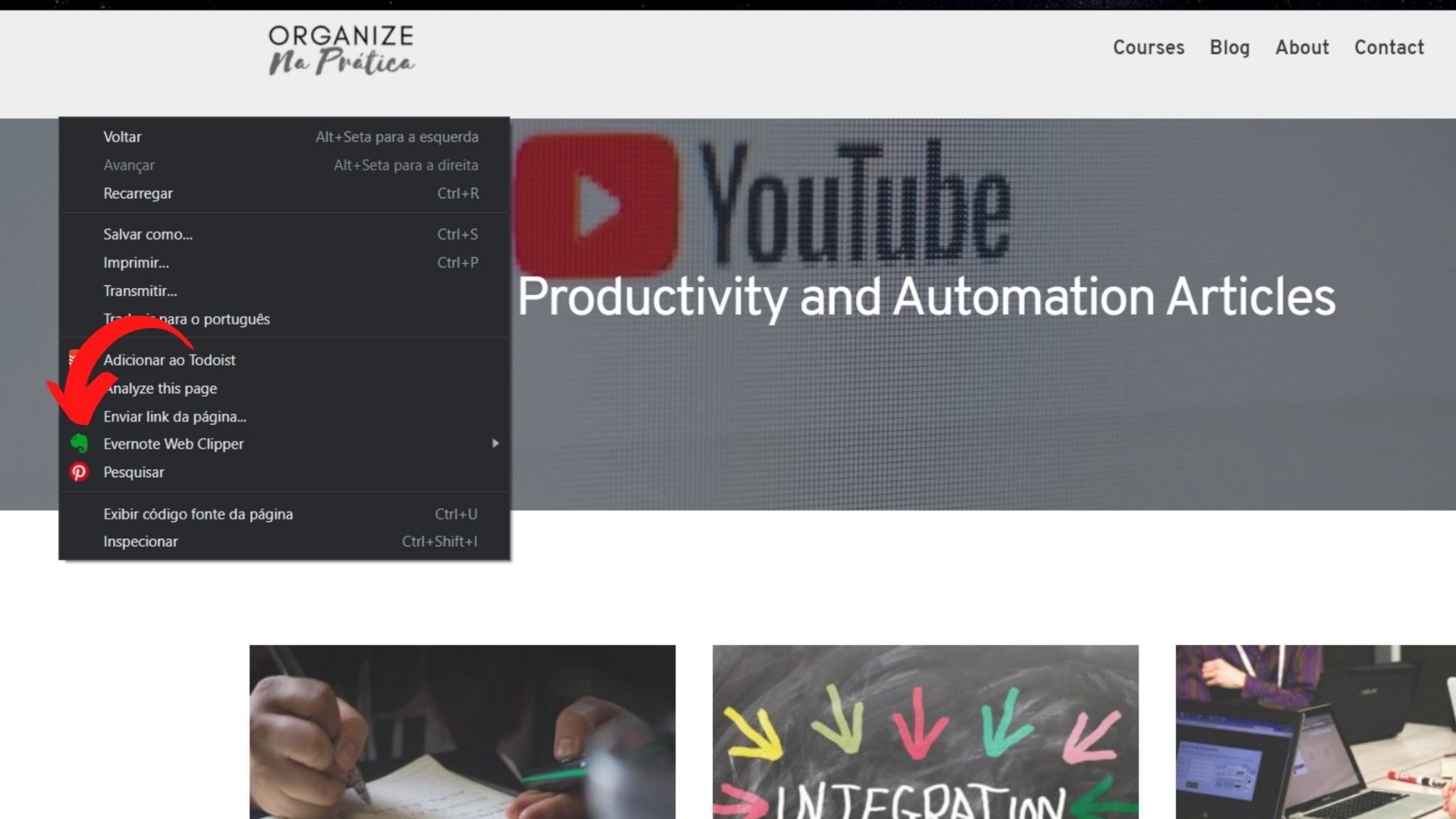 3. Right after, as soon as you choose, a new note will automatically be created with the captured content.
In addition, a small options screen will appear in the right corner of the screen, you can choose the option "Display in Evernote" to configure. And some related notes will appear. You can click on these notes to save the capture there, or go to the app to save and edit your new note.
With a few clicks, the content will be saved and stored for later consultation.
Certainly, this is one of the best resources, especially for you who are looking for an organization system for studies or to organize your content.
3. Evernote features: manage your passwords to never forget
Do you register on all the sites and apps that refer you? Do most of them you use or did you just stop using them because you forgot your password?
Amazon, Netflix, bank accounts, various emails, work computers, cloud systems passwords, and much more. There are so many passwords that sometimes it's difficult to keep them in memory, mainly because each website and each service has a specific rule to include passwords such as uppercase letters, lowercase letters, a special character, and so on.
What if you had a single safe place to store your passwords, having to record only one master password? Imagine how much time you would save if you didn't have to do, every time you forget, the password recovery process.
Evernote can also help you with this in a very simple way.
It's possible to encrypt the information in a note to ensure security, and to prevent any person or system from breaking into your passwords. See how simple it's in the following step-by-step:
1. This feature is only valid for the desktop version of Evernote. So, download the version on your computer. It's available for Linux, Windows and Mac. Soon after, log in.
2. Next, create a note with the main accounts, and the main passwords that you need to remember, and save them.
3. Right after, select the password, that is, the information you want to encrypt. Right-click on the selected information and choose the option "Encrypt selected text …".
4. Finally, just include the password you defined as the master password and select "ok". The password will automatically be locked.
To reveal the blocked information, just click on the code, enter your unique password and your password will automatically be opened.
Very simple, isn't it?
Learn in practice
How about learning the previous resource, in practice? Mauricio Aizawa, a productivity expert, prepared an incredible video.
Watch, apply to your routine, and never more forget your passwords.
Check out the following video:
Furthermore, knowledge doesn't stop there. Every week we provide quality content to make your routine more productive and efficient. Thus, read more:
In conclusion, how about creating a free Evernote account?
Finally, what did you think about this content? How do you usually manage your passwords? Leave your opinion in the comments and share this material with your friends.
Take the opportunity to follow Organize na Pratica on Instagram, and to follow more amazing videos on the YouTube channel.
Reference material